Bernardo Simões and João Del Rio, from Colégio Vasco da Gama, in Lisbon, were the big winners of the European Money Quiz national final, which the APB joined for the second year running, as part of the European Money Week celebrations.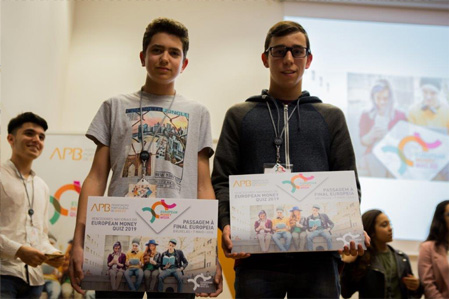 Their victory in the national final was the stamp in the passport for the two winners to represent Portugal in the European final, in Brussels. "We are going there to give our best and we will try to end up in the top three", revealed Bernardo. "I'm happy," summed up João. "At the beginning, with so many competitors, I thought our chances were low, and that we wouldn't win.
But in the end, we did", he added, before Bernardo revealed the secret that led the pair to victory - "The key was speed, we couldn't wait too long to answer".
These two students managed to obtain the best result in the national competition, held on 28 March in the auditorium of Lisbon's Law Faculty, which put around 120 students in direct confrontation. These finalists were shortlisted from a universe of 3,000 students, from more than 50 schools at national level, who played the quiz through their mobile phones and tested their knowledge of financial literacy.
With Portugal scoring the highest number of students playing the European Money Quiz in 2019, the Portuguese Banking Association earned the "Best Use of Kahoot!" award The second edition of the European EMQ final saw more than double the number of students competing than in the previous edition - around 100,000 young people from 2,000 different schools across Europe. Wim Mijs, CEO of the European Banking Federation, was very proud of the result. "We are very proud of these figures. This shows that there is a real 'thirst' in European schools to boost financial literacy among the young."
The quiz of the European final consisted of two rounds of 15 questions each. All questions were translated into the mother tongue of the different players, making a total of 26 languages. The big European winner of this edition was Slovenia, followed by North Macedonia and Germany. The winners received prizes of 3000€, 2000€ and 1000€, respectively, to be used by their schools in initiatives to promote financial literacy.
The Portuguese Banking Association, as a member of the European Banking Federation, associated itself from day one with this project to promote financial literacy among the young, whose next editions are already scheduled for the next three years.
See here how was the National and European Final of the 2019 EMQ