2019 Financial Education Week
Joana Garcia and Celina Praça will participate in the national final of the 2020 European Money Quiz, taking place in March 2020. The two students from Emídio Garcia Secondary School, in Bragança, came in first place in the Money Quiz eliminatory round, which APB organised at their school, as part of the Financial Training Week celebrations.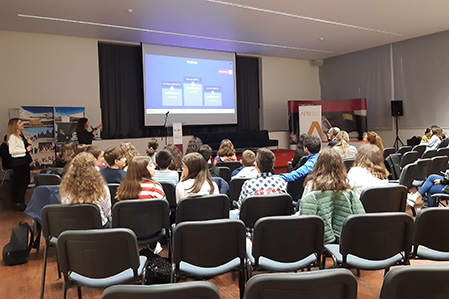 The two 9th grade students answered correctly all the questions of the game, which covered themes such as inflation, interest rates, online security and loan granting, among others.
120 students aged between 13 and 15 took part in the Money Quiz, promoted by the APB and played in the school's main auditorium.
The APB also had the support of volunteers from the association's Financial Education Working Group.
This year, the Financial Training Week was held from 28 to 31 October in the city of Bragança and the other municipalities of the Intermunicipal Community of Terras de Trás-os-Montes, under the slogan "In Financial Training Everyone Counts".
The three financial supervisors - the Insurance and Pension Funds Supervisory Authority (ASF), the Bank of Portugal (BdP) and the Securities Market Commission (CMVM) - together with the partners of the National Financial Training Plan, including the APB, developed 66 financial training sessions at school, involving around 1400 students from basic and secondary education, from the five schools of the grouping.