Financial institutions carry out specific activities that not only characterise them but also make it possible to classify them on the basis of the role that they play. The Legal Framework of Credit Institutions and Financial Companies (RGICSF) divides financial institutions into two main groups:
Credit institutions
Financial Companies
Credit institutions
The RGICSF classifies the following as credit institutions (CI):
Companies whose business activity consists of accepting deposits and other repayable funds from the public in order to invest them on their own account by granting loans;
Companies that issue means of payment in the form of electronic currency.
Credit institutions

Banks
Financial credit institutions
Mutual agricultural credit banks
Mortgage institutions
Central mutual agricultural credit bank
Investment companies
Savings banks
Financial leasing companies

Monetary institutions
(create currency)
Factoring companies
Consumer credit institutions
Mutual guarantee companies
Electronic currency institutions
Among credit institutions, banks, savings banks and agricultural credit banks stand out. Their activity includes accepting deposits and other repayable funds.

Financial companies
According to the RGICSF, financial companies (FC) are not credit institutions and their main business activity may be any of the following:
Credit operations, including guarantees and other commitments;
Issue and management of other means of payment;
Transactions on their own or customers' account of money and exchange market instruments, term financial instruments, options and operations involving foreign currencies, interest rates, commodities and securities;
Participation in the issue and placing of securities and related services;
Interbank market operations;
Consultancy, custody, administration and management of security portfolios;
Management and consultancy in management of the other assets.
The following are some examples of financial companies:
Financial brokerage companies;
Brokers;
Money and exchange market brokers;
Investment fund management companies;
Asset management companies;
Regional development companies;
Exchange bureaus;
Credit securitisation fund management companies.
Financial institutions – breakdown by sector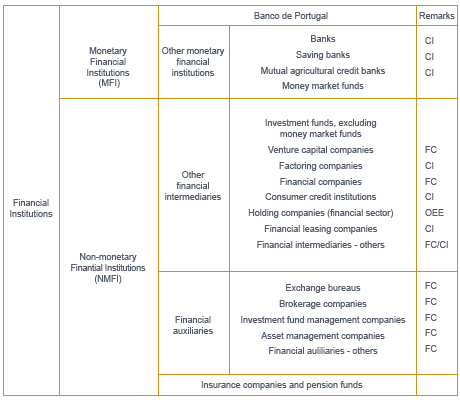 (OEE) - other equivalent entities
Source: adapted from Banco de Portugal Statistical Bulletin of July 2010 and Supplement 1/2001 of the August 2001 Bulletin