Income, savings and spending

In modern societies, all entities involved in business relationships are called economic agents. All these agents – the state, households and companies - receive incomes.
What is the purpose of these economic agents' incomes?
Firstly, their purpose is to pay so-called compulsory contributions, which, for companies and households, are essentially taxes and social security contributions.
The income left over after these contributions have been paid is called disposable income (DI). Thus:

Economic agents' income – compulsory contributions = disposable income

If the state, households and companies do not spend their entire disposable income, the income left over is savings. These agents are called savers.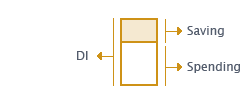 Sometimes economic agents want to undertake projects and do not have the necessary disposable income. In this case they need finance.